Renew Your Energy, Restore Your Self
Bring harmony and balance into your life with our Chi therapies, classes and courses.
Welcome to The Chi Zone, a beautiful and calming space in the heart of Poundbury, Dorset. Here you can enjoy a comfortable therapy room plus a modern and airy studio for movement classes, workshops and courses:
Incheol Ha and Françoise Ha, Korean-trained Chi Master Practitioners, offer group sessions as well as more personalised one-to-one support. We help you to strengthen your mental and physical health in the longer-term for greater happiness, health and resilience. We also offer highly specialised energy clearing programmes to create greater harmony and balance in your life.
Telephone: 0330 1331 034 or click here to email us.
"When I walked into the The Chi Zone for the first time, the energy just hit me. A wall of energetic power. It is so strong, clear and peaceful.
You just don't experience energy like that in normal daily life.
I understand what you're working with when I walk into this amazing space!"
Enjoy this lovely testimonial by Lisa of her journey to better mental and physical health.
Chi Acupressure Therapy Clinic
"I just wanted to say a massive thank you for your patience and kindness yesterday.
I was hoping that Chi Therapy would help me feel better. I wasn't expecting it to make me feel awesome.
I came home from work and got in my default position of having a few glasses of wine and about 10 cigarettes. I managed 2 sips of wine and half a cigarette.
How absolutely fantastic, I'm totally amazed and soo very grateful 🙏 Look forward to seeing you soon 😊."
Looking for pain relief and help to improve your health?
In pain? Unexplained pain? Feeling tired? Headaches, migraines, joint ache, injury… Chi Acupressure Therapy is a powerful and effective method utilising acupressure and sound for both short and longer-term physical and mental clearing and self-healing.
"Finding myself at home in Dorchester unexpectedly one summer Sunday I headed to Chi in the Park not sure what to expect.
I got a warm welcome and some lovely gentle movements. I kept going back and just really enjoyed the movements, the sessions and the people. It soon started to feel like a new habit, one that I wanted to maintain.
As a scientist and natural sceptic I am trying, occasionally, to reconcile my enjoyment with the concept of Chi. However, I now miss it when I don't go. And life has been improving since I've been going, which could just be a lucky coincidence of course.  It's great to push out all that negative energy, my favourite move!"
Workshops, Courses & Events
"The Intro to Chanting Workshop was a very well organised workshop with a good time frame.
I really felt the benefits of the session hi-lighting the Korean culture and language in relation to the chants and understanding the different energies to work in harmony with you and your well-being."
One-to-One Sessions & Programmes
"Chanting takes me back to my younger self. When I felt free and innocent."
Looking for a more tailored approach?
Incheol and Françoise offer private Chi movement sessions and programmes where we focus purely on your priorities.
We can tailor programmes of sessions over a period of time to help you sustain motivation. When new content is introduced we include a 30 mins video after the private session so you can practise at home for greater progress.
These one-to-one sessions allow us to tailor movements and content to your capabilities and  goals. We can make sessions more dynamic or slow things down to help you learn more effectively at your own pace.
We can include or exclude elements that appeal to you more, such as more/less chanting, movements, meditation, Chi Flow, Chi Steps or Chi Squares etc.
We consult with you regularly to ensure we are helping you move forward at the pace that works for you.
Françoise also offers private sessions to help families build deeper understanding, connection, balance and harmony between each other. This can be an exploratory session or become a more involved progression where Françoise works with both child and parent to explore and open brighter energy pathways in the family.
In addition we offer highly specialised energy clearing programmes for individuals and families.
For a free informal consultation via telephone, Zoom or at The Chi Zone with Françoise, please get in touch.
Understanding Energetic Influences
Chi is life-force energy (pronounced 'Chee'), usually invisible, and when we have abundant Chi we can use it to create what we wish for.
During our daily routine, we may respond to another person's Chi (personal energy). Whenever we are near them or in conversation with them their energy can connect to us and affect how we feel and act. This can either boost or deplete our personal energy levels.
Additionally, when our personal energy system becomes blocked, damaged or drained, Chi cannot circulate properly or be used effectively. We can find our emotions and physical health lower in brightness and capability. We can find it difficult to think clearly and may experience less positive events occurring in our life.
However, we can start to clear negative and blocked energy that has accumulated within and around us. By recharging ourselves with bright Chi, we can start to release the tiredness, pain and stress from our life. We can find a clearer, brighter present and future both physically and mentally. These are the aims of our therapies, classes and courses at The Chi Zone.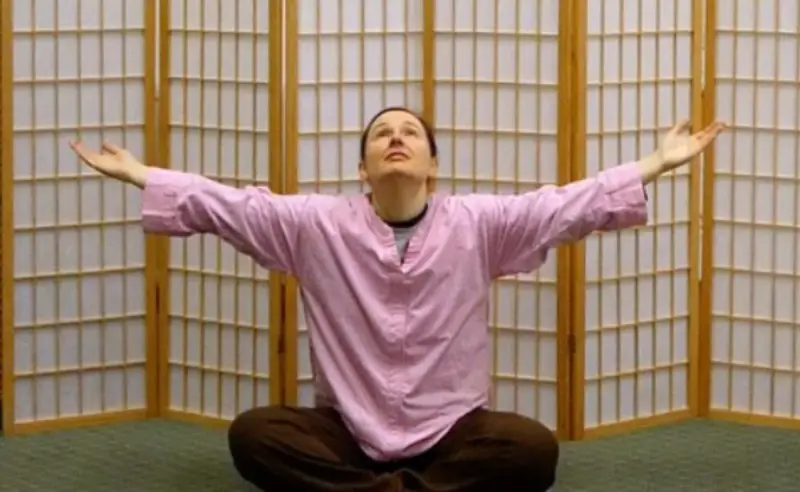 Françoise doing Chi movement
Master Ha
Master Ha giving Chi Treatment
Youngster doing Chi Movement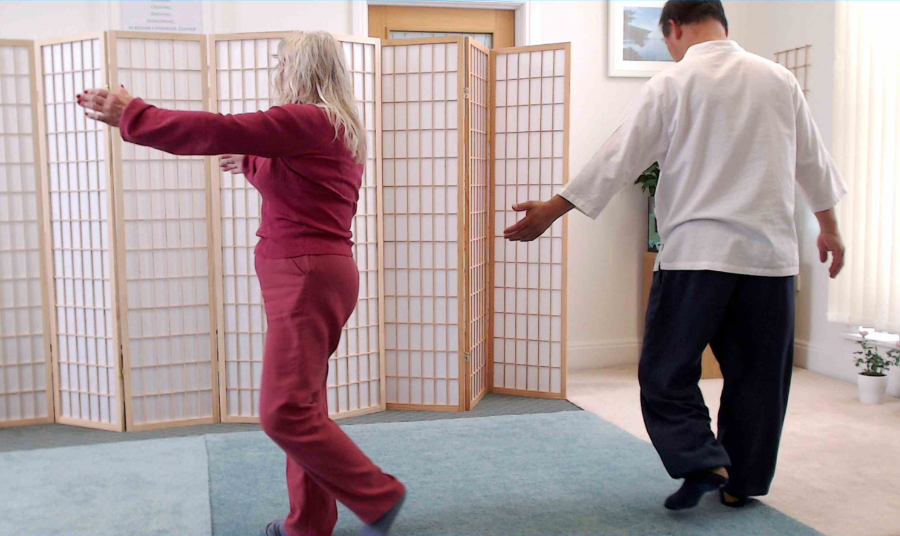 One-to-One Chi Flow Class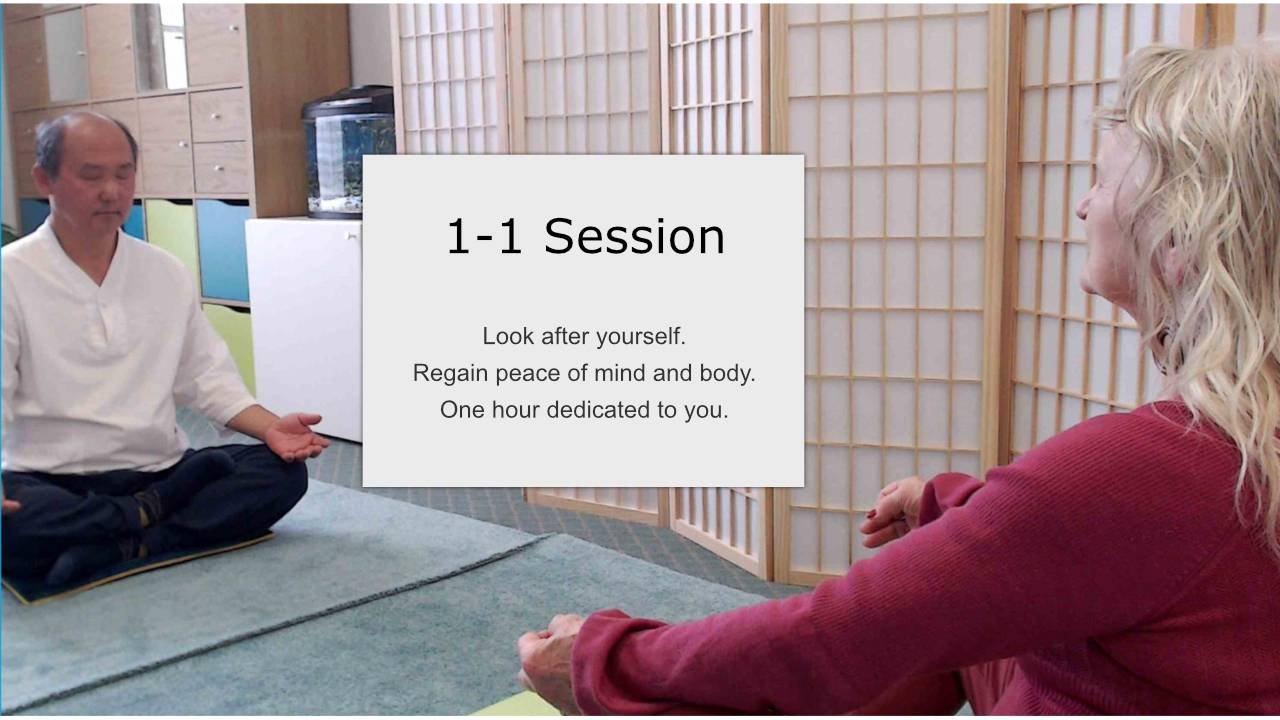 Private Chi Flow Meditation
The Chi Zone