Chi Therapy can help with:
Sports & Physical Injuries
Muscle & Joint Pain
Back Pain
Stress & Tension
Digestive Disorders
Headaches & Migraines
Depression & Emotional Health
Circulation & Blood Pressure
Fluid Retention
Anxiety & Insomnia
Post-Operative Recovery
Postpartum Recovery
Post-Illness Convalescence
Post-Viral Fatigue
Chronic Fatigue
Menopause
Haven't felt as good as this for years!
Sciatica all gone.
12 years of a problematic shoulder much better and getting better all the time.
(After a course of 5 treatments)
I know about pressure points. It is incredible and amazing! You touched everyone of them… You've woken something
I felt connected to the whole power of the universe. As a human race we are incredible and anything that helps that, you are a conduit for that; universal energy, truth and power. The universe was tingling.

Explosive – awed by it.
Release stress, pain & fatigue
Chi Therapy for better health and wellbeing
Chi Therapy is a holistic body and mind approach originating from the mountains of South Korea using acupressure and sound.
In the East for more than 5,000 years, there have been people dedicated to working with nature's energy to support the better health and wellbeing of others.
Here at The Chi Zone you can make an appointment to clear, rebalance and recharge your energy levels with an experienced Korean-trained Chi Master Practitioner: Master Ha or Françoise Ha. Ruth Mitchell also offers sessions as an independent Chi Practitioner at The Chi Zone and specialises in Women's Wellness.
In particular, Chi therapy can be beneficial for those who are:
In Pain
Emotionally/Mentally Drained
Physically Tired
Stressed
Injured
Experiencing post-virus symptoms
At The Chi Zone we welcome people of all ages from those stressed with work, tired parents, injured athletes to the retired who often feel a lot of pain ore discomfort and are looking for respite.
We also treat newborn babies who cannot sleep and teenagers who are stressed from schoolwork and exams.
Caring for You
Every individual comes to us for help with their own specific set of issues and our Practitioners are very experienced in addressing the underlying problems, including supporting those who are emotionally worn out and fatigued.
For all our therapy sessions we require a Health Questionnaire to be completed prior to your appointment. The information you supply will guide your treatment session. The questionnaire will be referred to during the consultation at the beginning of the session and feedback at the end of the session.
In-Person or Zoom
There is a choice of either in-person or distance sessions via Zoom, Skype or telephone. This ability to work remotely can be essential when helping clients who are self-isolating or recovering at home from illness.
What to expect
A full body Chi therapy session is a fully clothed, sound and acupressure energy treatment which aims to clear and brighten personal energy levels.
The Chi Practitioner uses a special breathing technique to transmit energy through sound as well as using acupressure to work on the individual's energy meridian system. Unblocking and opening the energy meridian channels aids the Practitioner to rebalance and recharge your energy levels.
A full body session allows your Practitioner to review your whole energy system. They can focus on areas they sense need special attention and then guide Chi throughout the whole body.
A course of Chi sessions aims to cumulatively clear and strengthen your physical and mental energy, helping to release stress, pain and fatigue and is recommended in order to achieve the best results.
A Chi Therapy session costs £50 for ages 12 years and over.
Reduced price of £35 for 11 years of age and younger.
SAVE £25 when you buy a course of five treatments for £225.
I initially started Chi Therapy to work on a musculoskeletal issue that wasn't being fixed through other treatments or stretching.
A couple of days after the first session the pain began to ease and by the end of the second it was gone. Amazing.
It's the most extraordinary type of treatment. If you're open and receptive it's like being plugged into source energy to recharge.
I definitely recommend it.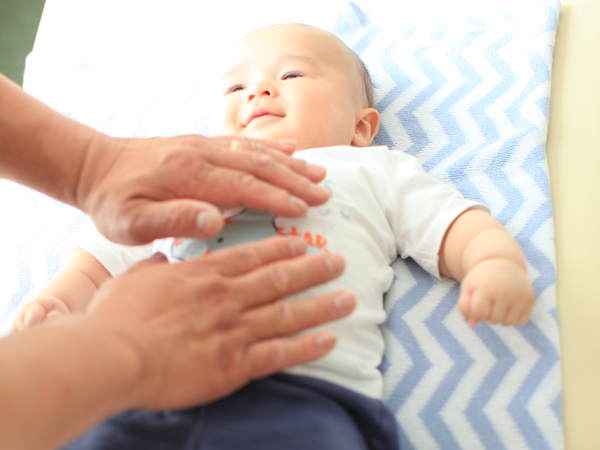 Chi Therapy is good for babies too.
We also offer Chi Therapy over Skype, Zoom or the telephone. This allows us to transmit bright Chi to you wherever you are.
This distance energy sound Chi session aims to connect the Chi Practitioner with the client at a deep, energetic level without the necessity to use touch.
Sound is used to better support a strong energy connection between the two individuals. The special breathing technique used to make the sound supports the transmission of positive and bright energy to the client. This is the essence of a Chi therapy session; the transfer of bright, positive energy from Practitioner to client.
This type of session can be very powerful and can either supplement or appeal to an individual in a different way to our traditional hands-on Chi therapy sessions.
During recent lockdowns and COVID restrictions, this remote Chi Therapy has proven to be very supportive and beneficial for those isolated at home or unable to travel.
I have been having sessions for a number of years and whilst the sessions are now online that doesn't deter from the impact of them. I believe that clearing my Chi has made improvements in my own experience here on Earth.
I have received sessions from both Master Ha and Francoise, both are very knowledgeable and experienced. I go to Master Ha if I feel there is stuck energy that needs a more masculine approach, for all other sessions I choose Françoise.
Chi Therapy Booking Enquiry
"*" indicates required fields
Symptoms: Confused, Anxious & Frustrated
How would  you describe Chi Therapy to someone who has never had a treatment before?
A soothing experience once you get over your initial anxiety/nervousness at trying something new. It can release blocks that you didn't know were there until they're removed. I have always found that I have more clarity following a treatment.
How did you feel mentally and emotionally before your treatment?
I was feeling confused, anxious and frustrated with things that I have limited influence over.
How do you feel now after your treatment?
I'm feeling much calmer. Situations haven't changed but I feel much more in control of my response to them. The sessions are a great way of bringing me back to centre.